Today, I went to Nagahama Fish Market, which is also called Hakata's kitchen.Normally, ordinary people can't get inside, but once a month, ordinary people can also shop. If you travel to Fukuoka city, I recomend you to visit there. I introduce the HP.
can buy only tuna
I was looking forward to visit Nagahama Fish Market very , however, I overslept!
When I arrived at the market, the event was ending. So I could get only tuna.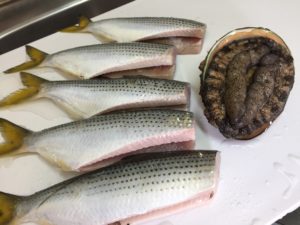 Konoshiro and Awabi.Awabi is still moving!
Next time, I`ll try cut them.
Saburo Sukiyabashi