Hello Sushi lovers in the world! My name is Saburo Sukiyabashi. I've just opened the fictional sushi restaulant "Sushi-dokoro JITAKU" (Dokoro means the restaulant and JITAKU means my house.)on the internet!
The purpose of this blog
In fact, I am never a sushi chef, but just an employee of a buillding material maker, not good at cooking. However, I want to make sushi at home 1 or 2 times in a week. Why? Why do I have to make sushi even though there are many sushi restaulants in Japan?
The reasen is that I love sushi but sushi is becoming more and more expensive. Ofcourse, the conveyor belt sushi is very reasonable, you know, but, my favorite sushi type is the beautiful, elegant, deep taste and inspiring sushi with aging fish(Aging raw fish is the Japanesse craftsmanship and the big theme of this blog.). And such type of sushi is now very expensive, 10,000-25,000 Japanese yen here in Fukuoka, 15,000-40,000 Japanese yen in Tokyo! I have no money because I am a just employee of small company! So I started making sushi at home.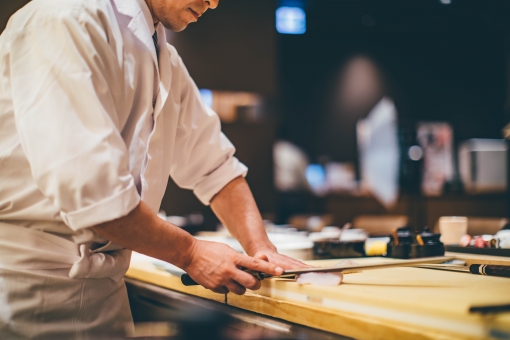 By the way, do you think all the Japanese people can make sushi ? That's a common misunderstanding of foreigners. Actually, we, almost all Japanese people without sushi chef cannot make and have never made sushi. We, almost Japanese people without I believe that only sushi chef who have practice making sushi for long years can make sushi. But it's a common misunderstanding of Japanese people. I think all humanbeeing, not only Japanese people can make sushi easily because it`s composed of only fish and shari(rice)!
I`ll try and practice making sushi, and want to eat sushi with a little money. And more, I want to prove the fact that everyone can make sushi and spread sushi culture as homecooking all over Japan and the world!
I will report for you with this blog about my everyday charanging and discovering! After reading this blog, you must be able to make sushi .
This blog is maybe the only one in Japan (and in the world!)on the specialized theme that the only Japanese amateur is making sushi! So it should be very interesting for you, sushi lovers!
About Sukiyabashi Jiro
Today, please remember the name of the most famous sushi restaulant in Tokyo, "Sukiyabashi Jiro". My name, Sukiyabashi Saburo is derived from this restaulant(Jiro means the second boy from same parents and Saburo means the third boy from the same parents.).
Sukiyabashi Jiro have got the three stars of the Michelin Guide Tokyo many times, and the boss chef of this restaulant , Mr.Jiro is 93 years old!! I introduce you with YouTube bellow. President Obama also came there.
Yes, We Can make sushi at home!!
Saburo Sukiyabashi